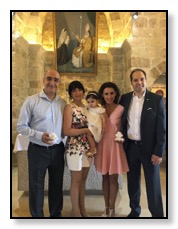 How did two-year old Arrow attempt to endear himself to his new sister? Why were his Mom and grandparents far more impressed than the 1 week old baby? And did the new baby accelerate Tiger's maturity process? Would any reader like to purchase a copy of the Los Angeles Times with the headline: "
On The Moon!
"? What big event was celebrated, in Lebanon, by (the lovely) Leandra and her family? Is it necessary to neatly pack garbage? If you're in pre-school, what's cooler - a starfish or a dolphin? What is a
paltroon
? (And why are so many of them 'serving' in Congress?)
Read More...