The vacation to the exotic Far East started smoothly – amazingly smoothly. The Air France connection at Charles DeGaulle Aeroport in Paris actually worked. In another break with Air France tradition, the flight to Singapore departed on time! We breezed through entry formalities and admired the bougainvillea and orchids on the drive from the airport. We were at the Oriental Hotel in short order.

Following our established ritual, Nazy made friends with the hotel staff: Inez at the executive lounge, Wang Poo at the concierge desk, Mai Ling, the duty manager and Chang Ho, the doorman. Because, in my opinion, Singapore s a lot like typical cities in Western Europe, a short stay had been planned.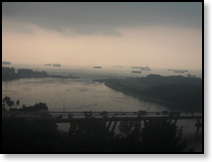 Adjusting to the six hour time change speedily, we slept through the night – awaking in time for a quick visit to Little India and
China Town
. We wanted to admire the skyline, but the weather was hazy. Fires burning in Indonesia several hundred kilometers away, an annual occurrence used to clear land for farming during the dry season, caused the problem. The fires often get out of control with the results you see ; the photo was taken during the day.


We visited the orchid sanctuary and the famous Raffles Hotel before leaving for Malaysia. The orchids, in every color, were beautiful. The journey to Kuala Lumpur was, eh, problematic. (But it was not my fault!)
_______________________________________________

FLASHBACK


I really want to take the Orient Express, Dan." Nazy implored. "Can we do that?"

"Unfortunately, it's not possible with our schedule."

"But the train …"

"There is, however, a first class train from Singapore to Kuala Lumpur." I explained. "Besides, Malaysian Airlines won't let me purchase a flight on the Internet and Singapore Airlines is very expen$ive." I thought.

"First class?" Nazy asked. "Are you sure?"

"Of course, my dear," I replied. "It says so right here on the web, so it must be true."

_____________________________________________________

The challenges began at checkout.

"You are taking the Orient Express, right, Nazy." Wang Poo asked.

"No, I replied. That doesn't go today. We're taking…"

"Oh, my. Which train station?"

"Keppel Road Train Station." I replied – with confidence.

"Keppel Road," Wang Poo looked at Chang Ho – obviously thinking that I deserved the heave-ho.

"Good luck, Nazy," Inez, hearing the Keppel Road news, had rushed down stairs to see us off. She was holding hands with Mai Ling – they both looked distraught as we departed.

Things didn't improve in the taxi. "Keppel Road?" The driver asked. "Are you sure?"

"Just drive." I replied.

"Have you ever used this train?" Nazy asked.

"You might make it to Kuala Lumpur," the driver answered.

"Might make it?" Nazy looked at me.

"You said that you wanted to take the train, Nazy."

"Tlain always rate." The driver explained.

"I said we should experience Orient Express, Dan." Nazy didn't seem happy.

"Olient Expless – vely good. This train: two or three hours l
rate," the taxi driver continued.

"Will you just dlive?" I said.

In due course, we arrived at the train station. It was, I had to admit, a rather seedy facility. Undaunted, I explained (again) that we had a FIRST-CLASS TICKET. Nazy wasn't impressed.

"This train smells, Dan." She said as we boarded.

"Smells?"

"I think that it is mildew. Don't touch anything! You'll get germs."

"But.."

"This journey is about four hours. Right, Dan?"

"Well, actually, it's about 7 hours."

"Attention!" An announcement was being made over the train speaker system. "Departure on this train will be delayed by 90 minutes. We apologize for the delay."

"In truth, my dear, it will take almost 9 hours."

"Why are we not flying?"

"Why are we not flying?"

"You said…" I stopped; Nazy didn't look happy.

We did arrive – eventually. As we took the taxi to the Shangri Li Hotel, Nazy asked about the next leg of our journey. I explained that I hadn't been able to purchase a flight ticket on the web, but..


Continue Reading here