Kastle Kapfsteig


The first year of our Zürich adventure was, well, an adventure. A vast increase in the personal budget for housing didn't solve the problem because there was a dire shortage of suitable apartments in the city. To make matters worse, the house in Hanover wasn't moving. Compaq, which had agreed to pay for three months temporary housing, was getting antsy. (We had been living in temporary housing, eh, space, at the Nova Residence for 11 months.) The head of HR scheduled a heart-to-heart.

"This is the very last month, Dan. You must find a place to live."

"Eh.."

"The relocation agency says that you refused everything they've offered."

"That's right. I refused the house that had a high-speed train track 20 meters from the bedroom."

"Well.."

"And I couldn't convince my wife to accept the house where the bathroom was not located in the same building as the bedroom."

"Hmm..."

"I know that we're being dreadfully picky."

"This, Dan, is the last month that Compaq will pay for temporary housing. You must find a place to live."

The year had gone by quickly. Nazy, working to wrap up the Hanover house (Bedlam Abode) spent the first six months moving between New England and Switzerland. Following the debacle with my new boss (here), I located had found a revenue-generating position in The Netherlands. I flew to Amsterdam every Monday and back to Zurich every Thursday or Friday. This happened regardless of whether Nazy was in Switzerland or the USA. It was getting old.

The relocation specialists were unless, but I had a secret weapon - Nazy. Meeting with friends, and trolling the parts of town that she liked, Nazy eventually found an unadvertised apartment on Kapfsteig that was both available and (almost) affordable. We moved quickly even though Inge, the landlady, was rather pushy.

"Just sign," she said pushing a thick German language contract my way.

"I'll ask Compaq to review it first," I replied.

"Do you want the apartment?"

"Yes, but I am also contractually required to have Compaq review the lease,"


The Compaq legal department wasn't impressed. "This contract, Dan, says that when you depart, you will return the apartment in the same state that it was in.."

"Naturally..."

"... when the people before you rented it."

"... Naturally not! Is she crazy?" I called Nazy to ask for clarification.

"Inge doesn't like the glass door that our predecessors installed in the master bathroom. She wants us to remove it. Then she wants us to repair the tiles that were damaged in the installation."

"Why should we do that?"

"Because you said that we liked the glass door."

"I don't think its possible to repair two tiles. We'd have to break everything and start again."

"That's right, Dan. The tiles are special Italian. Inge wants us to replace all of them with something equally special."

"Tell her 'no'."

"I'll try."

Inge eventually (and gracelessly) relented because she was afraid of losing a month of rent. We were finally moving. After spending a year in a temporary residence, vastly increasing the budget, and dealing with a deranged landlady, we had a place to live. Our furniture was on the high seas, so we packed our limited belongings in the car and drove to Kastle Kapsteig.

I parked as close to the front door as possible and began carrying suitcases full of Nazy's clothes into the new apartment. A few trips later, I realized that we didn't have a 'limited' set of belongings. One of our new neighbors greeted us on the third trip.

"You can't park there," she said cheerfully.

"I think this is a loading/unloading zone," I replied. "A nice cheery welcome," I thought.

On our last trip we transported a borrowed a bed from the Nova Residence. I set it up and then discovered..

"The bathroom doors are locked, Nazy! Do you know where the keys are?"

"I'll call Inge."

"Tell her that an apartment without a bathroom is not very cozy."

It took substantial charm and clever cajolery, but Nazy finally got Inge reveal that the keys were hidden in the washing machine in the basement. We subsequently discovered that Inge had removed the glass shower door and the medicine cabinets so that we could 'fully enjoy the lovely tiles'. She claimed that the floor was sloped so that a door was not necessary. I was not happy.

"Can you believe this? Without a shower door, the spray will soak everything. Even the toilet paper will be soggy."

"Inge doesn't understand because I'm not sure that she knows how to use a shower."

"What?"

"I've seen her several times over the past six weeks. She always wears the same orange sweater and gray skirt. I conclude that she doesn't take showers."

Olfactory evidence led me to conclude that Nazy was right.

While we were 'in' the Kastle, there were a few details to be arranged. Our furniture was 'en route'. Our 'emergency, priority air shipment' had spent two weeks in transit: enough time for the space shuttle to travel six million miles and, more to the point, enough time for a camel caravan to trek from Paris to Katmandu. (Our air shipment was probably being stored in Katmandu.) In short, we were living out of suitcases but, since the suitcases mostly contained Nazy's clothes, we were living out of a lot of suitcases.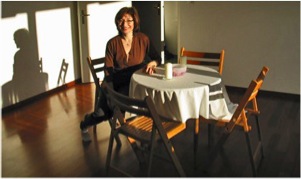 Like most Swiss houses, the Kastle was provided neither light fixtures nor closets. We purchased (and installed) several ceiling fixtures. Then we tried to decide whether to $pend a lot for armoires that will become a treasured part of The Martin Family legacy or part with a small bit of ¢hange for things we'll leave behind when we move.

Note: The fact that we considered the latter option demonstrates our naiveté. You can't actually leave things behind. It's even difficult to throw things away. Nazy had bought her first set of official garbage bags. The four bags cost 1.70 Francs (about $1 at the time) but the tax was 18.75 Francs (about $12). Garbage can only be discarded in these official bags. (In Zürich, they have Trash Police to make sure that you use the official bags.) This development made our life very difficult: we know the direct correlation between per capita garbage generation and gross domestic product. Accordingly, we have always done our best to increase the GDP by generating h
e
a
p
s of trash.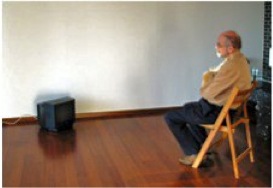 Finally, we borrowed a few chairs and a TV from friends and made ourselves at home. Our furniture, under the careful care of Mayflower shipping, was on the high seas. When selecting Mayflower, I thought I was choosing a transport company. It turned out that I'd chosen a well-known sailing ship. The winds weren't good.

We took the opportunity to visit Ikea in nearby Dübendorf to acquire, carry home and actually assemble a few clothes racks and a very complex rotating, mirror-encrusted, shelf-laden, door-sporting, free-standing, heavy, massive, tall and "absolutely necessary" bathroom cabinet. We also bought some flowers for the window boxes and borrowed a card table and four chairs.