I had planned to spend a quiet week in Zürich. HP (and ING) had different plans. There was a major escalation in Amsterdam. I could tell that it was a real crisis because HP authorized business class travel on SWISS rather than KLM. There was a small problem at Schiphol. The airplane landed early, but because it landed on the infamous runway 5, it arrived at the gate a little late. It was here that a problem arose. We were waiting (a long time) to deplane when the purser made an announcement:

"They are having problems with the disembarkation pier." Isn't that a wonderful appellation for 'jetway'?

Although the trip to Amsterdam was essentially useless, neither ING nor HP had any trouble generating additional requests in the run-up to our departure. Thus, the kind of happiness that used to be associated with an escape out of Russia accompanied our trip into St. Petersburg.

The business trip objective: The Dutch National Bank ruled that every person in The Netherlands with a bank account must personally visit the bank with a passport to identify themselves. (It has something to do with money laundering.) Every other bank in the country had started to work on the problem 18 months earlier.. ING waited until the (very) last minute before giving the job to us. HP, far better prepared, began by firing consultants 18 months ago. The WFR (Work Force Reduction) has continued unabated. (In fact, it has accelerated because people we want to keep have quit.) So, we don't have people. In short, ING, which had no time, gave this critical project to HP, which has no people.

Our vacation flight, via Vienna on Austrian and Tyrolean Airlines, was routine. Customs and Immigration formalities caused only normal delays. In my opinion, the International Terminal wasn't a showcase for Яussian Яenovation. But our guide said that the international terminal had been greatly expanded after the collapse of the Soviet Union in 1991: "Before, there was almost no need for international flights: no one came and we weren't allowed to go."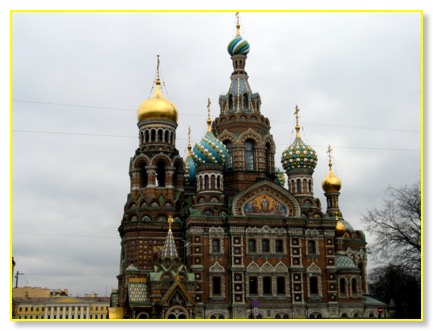 The road into the city was crowded with western cars. (One measure of the change in Russia is the paucity of Russian-made cars: fewer than 10%) Congestion continued inside the city. Parking was free (a suitable arrangement for a population with no cars). Now, however,
everyone
has a car that they 'park' wherever they desire. On the other hand, the city itself is really beautiful: countless
p
a
s
t
e
l
buildings and a myriad of churches. The churches were a surprise after 70 years of communist rule. However, although many church buildings had been misused (e.g. warehouses) since 1917, they had not been destroyed. Since 1991, they began being restored.


Although we were visiting during (our) Easter week, it wasn't Easter according to the Georgian Calendar used by the Russian Orthodox Church. Nevertheless, it was the week before Easter, so all the churches had 24 hour, perpetual services. So when we visited, we got to see services in session. To me, it looked a lot like a Catholic Service. (I guess I'm not good at telling the difference between Russian and Latin chanting.) Interestingly, there are no pews in Russian churches. Worshippers stand during the entire service. Perhaps this explains the fabled Russian patience and endurance – the character that allowed them to tolerate Communism for 70 years.


St. Petersburg is a city of museums – a fact clearly reinforced by a city tour. In addition to the Hermitage, they had the State Museum of Naval History, The Museum of Derzhavin and the Russian Literature of his time, The Museum of Anthropology and Ethnography, the Military Medical Museum, The Museum of the History of Religion, The Monument to the Heroic Defenders of Leningrad, The State St. Petersburg Museum of Bread, The Central Naval Museum, the Military-Historical Museum of Artillery, Engineers and Signal Corps, The Museum of Non-Conformist Art, The Museum of Applied Art, The Marble Museum, The Stroganov Palace (where beef stroganoff was invented)… well, the list goes on (and on and on).

In my opinion museums can be rather dull. However, since this opinion was not completely shared by Nazy, careful negotiation and consultation ensued.

"You want to see the Pushkin Apartment Museum, Nazy?" I was incredulous. "Who is Pushkin?"

"He is a Russian poet, Dan."

"Of course, but.."

"He died in duel."

"I know, he died young – a heartbreaking death. A very tragic story. In fact, I think that seeing his apartment would be disturbing. The depressing nature of his death would be ruinous. The overwhelming sadness could wreck our entire trip."

"Dan.."

"And," I was getting very desperate. "We probably wouldn't have time to go shopping if we stopped at every.."

"Well, Dan, we can probably skip the Bread Museum if we stop in at a fur shop."


Continue Reading here