Galloping Gertie blows out ferry-less sunlit rainforest volcano
After lunch at the 'Salty Girl' (which was out of most food), we drove back to Port Townsend from Olympic National Park. Our holiday stay was nearing an end but we wanted to celebrate another birthday (Auriane) or two (Nazy) and take the ferry back to Bellingham.

We started with Auriane's birthday which featured cake, candies and (very) popular Duplo block presents. By 'very popular', I mean that both Leandra and Auriane wanted to play with them. Simultaneously. They both liked the same block color. After dinner, the entire family blew out birthday cake candles. Simultaneously.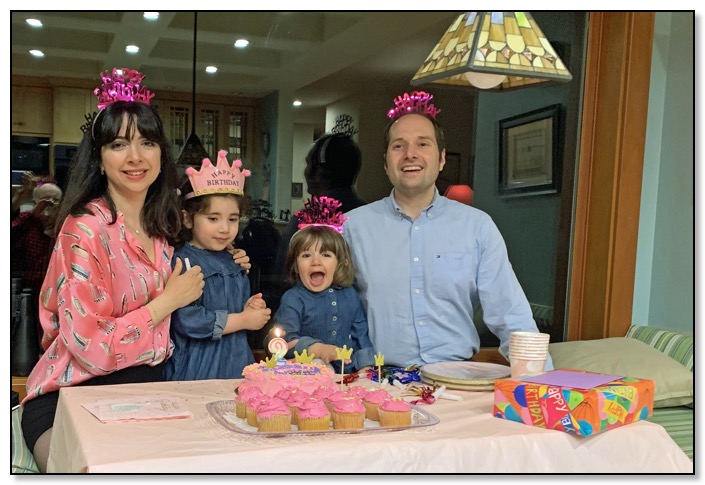 The next morning, Sunday, Christiane had planned a surprise Champagne Breakfast for Nazy. And "How?" you are probably thinking were they able to secretly buy a bottle of Champagne? Well… we knew that we'd need an excuse that was completely believable:

"Dad?." Darius asked. "Can you drive me to the grocery store? I lost my bottle of contact lens solution."

"Again?" Nazy replied. "Darius always loses his contact lens solution." Nazy thought.

"Again?" I concurred.
"You should consider Lasik surgery, Darius." Nazy interjected.

"How could you lose your contact lens solution?" I asked as we drove to the grocery store. "I saw it upstairs yesterday, you didn't take it with you to the National Park and now we're back. It should be impossible to lose."

"I just needed an excuse, Dad."

"You certainly picked a believable one."

"We're getting Champagne and coffee ice cream for Mom's surprise birthday. Don't tell her."

In addition to celebrating Nazy's birthday, we took some family pictures at the house.

Veracity aside: The celebration lacked a little something. We sang 'Happy Birthday', Nazy blew out candles on the coffee ice cream and opened presents.(Nobody, not even me, ate more birthday cake.) But Nazy did have an ice cream breakfast.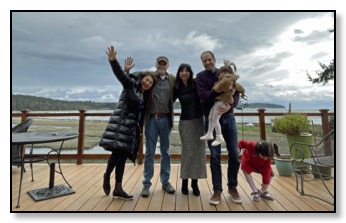 The weather in the photo deteriorated rapidly. We packed up, decided to stop for bagels on the way to the ferry. But… the nearby bagel store was closed. We deduced to drive into Port Townsend where..

"Did you see the signs, Dad?" Darius said after calling us. "Our desired ferry departure has been cancelled because of the weather. We'll have to take the long route home."

"Hmm," I replied. "And I bet that the alternate bagel store is also closed," I thought. We decided on a more substantial breakfast — well, by now it was lunch time — before taking the longer drive to Bellingham. We stopped at the Bayview Restaurant, which had a great view of the windy rain. And…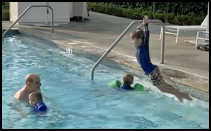 "… amazingly, they have fried clams," I announced. "I
love
fried clams and I'm sure these will be great. The local clam chowder has been wonderful."

They were, of course, out of fried clams. I got a hamburger.

The by-pass ferry drive back to Bellingham involved a drive over the Tacoma Narrows Bridge… luckily a new version of the famous 'Galloping Gertie' bridge that collapsed in 1940. We crossed on a newer (built 1950) and (presumably) much safer one. It was, however, very windy as we crossed the narrows.

There were a few traffic slow-downs on the way, but both cars made it home with minimal problems. Back in Bellingham, we had more time with Darius, Christiane, Leandra and Auriane. Nazy and I took the girls to the nearby playground where they love the swings and the slides. We also played with a bubble making device and, of course, we read books together.

Leandra really wanted to read (many times) a book entitled "Me and My Dad". I tried alternative renditions..

"This book is about Me and my Grandpa," I began.

"NO!" Leandra responded.

Truth be told, I'm not quite sure about the value that I added in my reading because Leandra had memorized the entire book.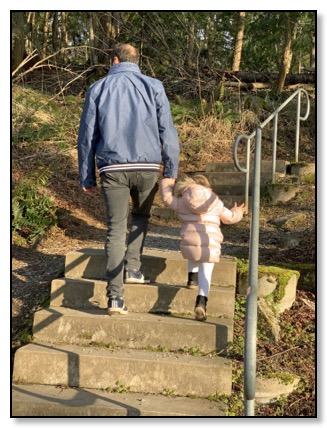 Darius, meanwhile, continues to develop his virtual lectures, which actually a series of short video 'lecture-ets' at home. It's not clear when the university will reopen. The Governor wants to maintain the 'six foot' rule, which will preclude normal classes.

Aside: I'm a former college professor and it is abundantly clear to me that teaching in this kind of environment, especially with the care that Darius is giving it, is much more difficult than the previously defined 'normal', in-person approach.

Meanwhile, Christiane and the rest of the family, have been unable to visit Lebanon for a very long time. The political and economic situation there is very challenging, but, even more challenging is the fact that Christiane, Darius and the girls haven't been able to visit family in Lebanon for a very long time. Assuming successful vaccinations, the Bellingham Martin Family will be visiting Beirut during the summer.

Darius and Christiane live close to a …

"… temperate rainforest, Dad." Darius explained. "Not a tropical rainforest, but .."

"Yes, I get it Darius," I replied as we walked, with Leandra and Auriane, to the playground in the nearby temperate rainforest. It was a long walk and I was amazed by the resiliency of the little girls.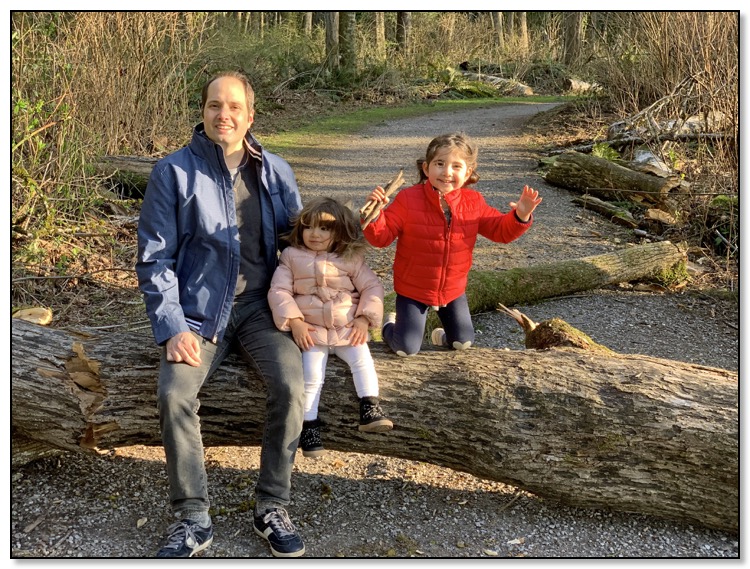 Auriane, more than a little reluctant to leave the swing, inspected every storm sewer on the walk home.

The weather on our departure date was splendid and delivered great views of Mt. Baker, Mt. Rainer, Mt. St. Helens (what was left of it). When we got home, Melika, Tom and the rest of Adams family had arranged (another) birthday party for Nazy. More on that in the next issue of The Weekly Letter.


For last week's letter, please click here


From the Airplane