tiger helps rocking horse (2nd) birthday with rabbit cake
It was a day of…

"…
I told you so
, Dan." Nazy concluded.

"Yes, dear," I replied. What else could I do? Arrow was playing on the rocking horse and Nazy had shared a video of Tiger doing the same thing.

"You said none of our kids ever even sat on that rocking horse." Nazy, unsatisfied with victory, continued.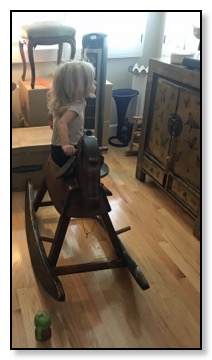 "Yes dear," I replied. "
But Arrow and Tiger are not our kids
," I thought

"And you, Dan, wanted to give that rocking horse away."

"Actually, I wanted to throw it away," I replied.

"Dan! That rocking horse is a big, bold and beautiful.,,"

"Nazy! That rocking horse is a big bad behemoth."

"Our kids didn't ride on it because you hid in storage."

"
Caught
," I thought. "Maybe we should keep a storage locker after we move," I replied — getting thoughts and spoken words mixed up.

"The new house has plenty of room for .."

"Let's keep it," i replied. "
In the garage, under a box, behind the Christmas ornaments, camouflaged as a giant spider.
" I thought.

Nazy and I are deeply involved in packing belongings for our impending move. For every rocking horse that Nazy wants to keep, I have a…

"…momento, Nazy." I explained. "Like this letter that John Gwynn. my thesis advisor, wrote recommending me for ;promotion to Associate Professor. How could we throw that out?"

"Did you get the promotion, Dan?" Nazy asked.

"As you know, Nazy, I left academia to better the world as a businessman."

"You went to work for a Commodity brokerage firm."

"Yes."

"Did that make the world better?"
"It made things better for us," I replied thinking the bills. "So," I continued, adroitly shifting gears, "What about these five bushels of letters and cards? Do we need those?"

"Dan! I kept every card you've given me since we met. Every birthday card, every anniversary card, every valentine card, every get well card, every letter…"

"So you love me bushels
and
a peck? That's very romantic," I replied. "Do you need to keep all these letters from your parents while you were at college?"

"Dan!"

"They are written in Farsi, Nazy. No one can read them."

In the end, we agreed to get rid of my ski parka (with a defective zipper) and paper bank records from our time in Holland during the early 90's (the paper was f
a
d
in
g
).

In addition to the normal excitement associated with moving, we — or more specifically Melika and Tom — are expected a baby girl next month. In preparation, Arrow has joined Tiger at pre-school. I thought that Arrow might be a too young to start, but the transition has proven beneficial for both boys. Whenever Arrow feels insecure he finds Tiger who says: "He just wants me to snuggle with him." While snuggling, Tiger discovered that the room where the two year olds nap is air conditioned — information that has proven to be invaluable during the recent heat wave. Tiger also has time to zoom Arrow around the grounds on the back of his tricycle.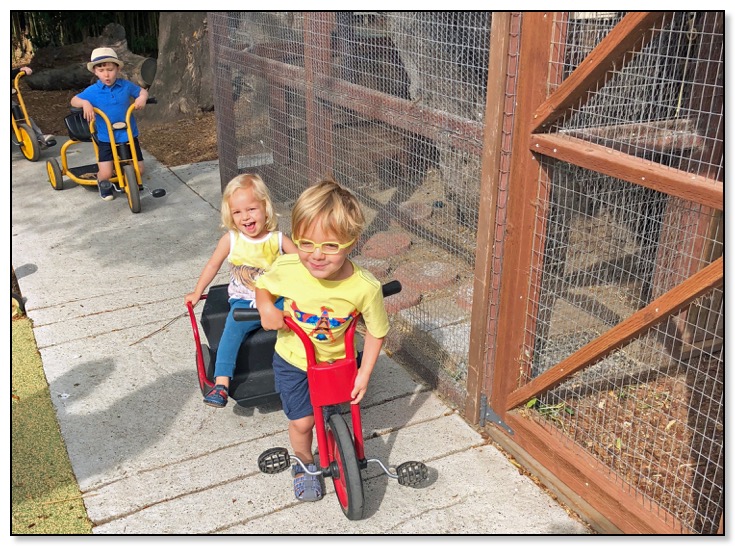 The tricycle at school has a 'trailer hitch',a feature lacking in the tricycle at our home. That fact did not deter Arrow, who refused a seat on his stroller, for a walk to The Mission.

Not only is Arrow going to school, he has also celebrated his 2nd birthday. Tiger assisted. He blew out the candle on Arrow's cool rabbit cake. He coordinated, participated, and dominated the present unwrapping process. He offered to "help" Arrow play with new toys. He was first to taste the birthday cake.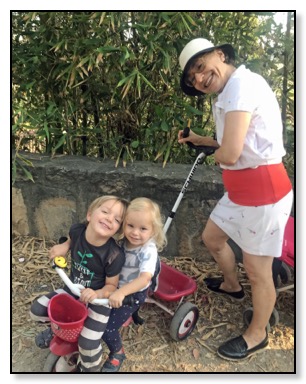 Arrow, turning two, has morphed his personality. Cheerful acquiescence is being replaced by increasingly insistent demands that his desires be recognized. Moreover, his 'desire' is, quite often, to do exactly the same thing Tiger is doing — and he wants to do it by himself. In short: He's a two year old.

We celebrated Arrow's birthday at Melika and Tom's home. Mitra drove up to take part and help out. After the presents were opened and played with, Arrow decided that he wanted to dance. Melika turned on his favorite music and Arrow began to gyrate. Then he remembered that he wanted Tiger to join in. But..

"
Tiger is playing with magnetic blocks
," I thought.

"Tigah. Dans" Arrow demanded as he tried to pull Tiger to his feet.

"
That won't work
," I thought. "
When Tiger is doing something, he will not stop until he is done. Arrow needs a more subtle approach."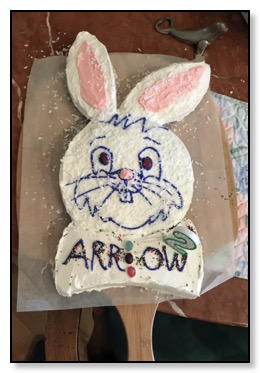 "Tigah. Dans!" Arrow commanded as he grabbed Tiger's neck.

"
That's about as subtle as an elephant in heat
," I thought.

The coming week will be an interesting challenge for two-year old Arrow. Nazy is taking his older brother to Washington, DC. Later, I will also be on the East Coast. So, Arrow will be going to school 'sans big brother'.

I had a frighting experience while exercising this week. I was at the "Y" and the
only
exercise bicycle available was the one in front of the ..

"
Fox 'news' network
," I thought — reminded of the TV 'news' shows that I'd seen while traveling in the third world. "
They should rename 'Fox' to 'Pravda'.'
"

The program content was amazing. It was like living in a different universe. Nefarious Mueller-ish plots were described, (Non-existent) presidential accomplishments were touted, 'civility' defined as "don't say mean things to Republicans" — was demanded (at the same time uncivil comments were shouted about Democrats), child separation in 2018 was blamed on Clinton decisions in 1996, the administration's inability to return three year olds to their parents was explained away, baby prisons were called summer camps, enemies were friends, friends were enemies. It is clear that the Fox approach (loudly telling the same lie over and over) is designed to eventually convince people that the lie is true. Sadly, it works for some of the population.


Meanwhile, Darius, Christiane and (the lovely) Leandra are in Lebanon. Leandra has learned to crawl and is beginning to talk. Her first word was "light" — which, interestingly, was also Tiger's first word. We're looking forward the their collective return to the country in the Fall.


For last week's letter, please click here


Photos of Arrow's birthday as well as Darius and (the lovely) Leandra follow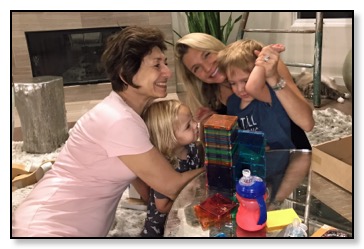 Darius and (the Lovely) Leandra