Birthdays! Airplanes! Haircuts! (with Grandchildren)
It's the family birthday season ('The Spring Fling&rsquo

and Mitra came up from Los Angeles to help with the celebrations. Festivities began with Melika's birthday — she and Tom went to the San Ysidro Ranch, where they had renewed their vows — for the weekend. And, before Nazy and I flew to Bellingham, Mitra took Nazy to El Encanto for an early birthday brunch. To top things off, I celebrated my second dose of Moderna vaccine by getting my first professional haircut in a year.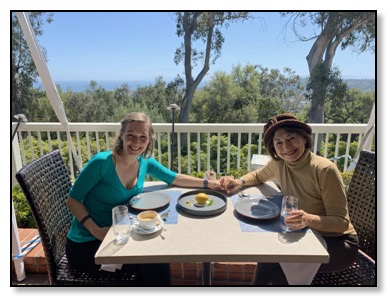 "
I
cut your hair during the pandemic," Nazy interrupted.

"Yes dear," I replied.

"Tell your barber… not too short, layered, above the ears. He should trim your eyebrows, straighten your mustache, de-scraggle your beard…"

"De-scraggle?"

The barber and I agreed to forgo mustache and beard work since face masks were required.

That weekend, Nazy and I flew from Santa Barbara to Bellingham via Seattle. The flights were essentially trouble-free and smooth. On arrival, I strolled to the rental car counter where I was reminded that every rental car company had bought every other rental car company. We had rented with Thrifty, which along with Dollar, was now part of Hertz. Naturally, the Hertz counter, the only one that was 'sans service agent', was also the only one with a queue. A clerk arrived. Eventually. The queue moved forward glacially.

Aside: In this context, 'glacially' refers to glacier movement pre-Climate change.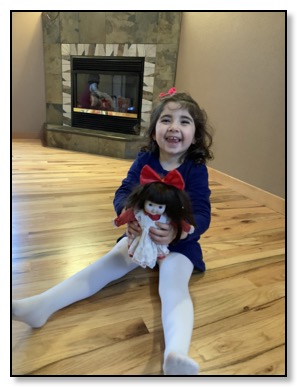 "
At least I got a good deal on this car,
" I thought as tree roots broke through the floor of the airport and began growing up my leg. "It's a good thing I'm patient," I said to Nazy, who rolled her eyes.

"If you're willing to wait a few minutes, I can give upgrade you to a luxury car," the clerk enthused.

"We can wait," Nazy replied.

"What car?" I asked.

"It's a grand sedan. A Chrysler 300."
"How much will it cost?" I continued.

"I can do $25/day." He replied.

"Extra?" I asked, aware that my existing rental was an all-inclusive $24/day.

"Yes, that's right."

"No thank you."

"Would you like insurance ($16/day)? Navigation ($5/day)? Satellite Radio ($7.50/day)?

"No.
No
.
No
."

As we were driving away, Nazy told me that she 'never would have thought to ask whether the upgrade cost 'extra'.

We were, of course, visiting Washington State to see Darius and his family. Serendipitously, we would also be celebrating birthdays — specifically Darius and Auriane. However, the first order of business was to present Leandra with a special doll from Mitra.

This doll has been a feature of Mitra's regular Zoom calls with Leandra, who was delighted to see it.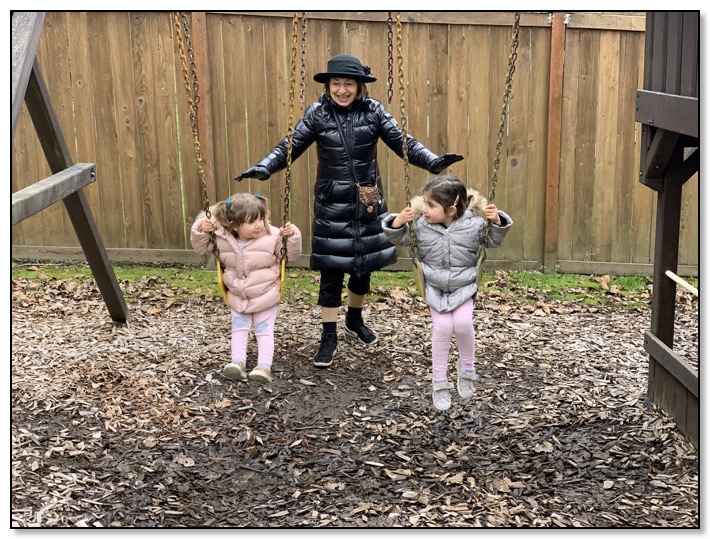 Auriane was also very happy to see 'Granpa Dan and Joon-Joon'. At first, of course, she wanted to stay close to her Mom and Dad. Both little girls love reading books, drawing pictures and playing outside at the playground. Both girls like the alphabet and (just now) two year old Auriane can already recognize some letters. Leandra knows them all.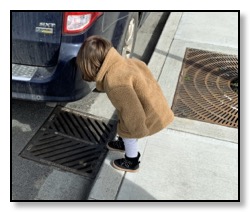 Auriane also
really
likes to look into every storm sewer to see if she can see the water.

A year into the pandemic, Darius is still teaching his classes remotely — a process that is tricky and (very) time-consuming. Fortunately, Western Washington University will return to in-person classes in the Fall.

Darius, Christiane and the family haven't been outside of Bellingham for more than a year. Mitra and Stefan and Melika and Tom got together to find and fund a wonderful weekend at an AirBnB in Port Townsend, Washington on the Northeast corner of the Olympic Peninsula. The picturesque drive crosses Whidbey Island and utilizes a ferry to the Peninsula. This trip will be featured in the next issue of The Weekly Letter.


For last week's issue, please click here



Dan with the little girls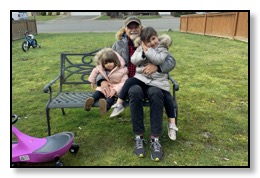 Darius and the little girls