Freezing Doctor with funny bed drums vaccination on Azelle's book

It's been a very hectic time here in Santa Barbara. As is the usual case, the 'rainy season' has been rainless. That didn't preclude an emergency message from Ready SBCounty and the National Weather Service:


The National Weather Service (NWS) has issued three extreme cold-related warnings for multiple areas throughout the County again. These warnings start as early as 10pm tonight (February 4) and last through 10am tomorrow (February 5). Temperatures may fall as low as 22-28 degrees Fahrenheit. This could damage crops and outdoor plants and present a hypothermia risk for people and animals. Limit your activity outdoors and move animals inside. Prevent pipe bursting by insulating exposed outdoor pipes.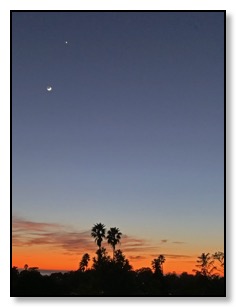 A couple of pertinent observations: (i) I realize that friends in New England will scoff at this warming; and (ii) It didn't actually drop below freezing at our house, but I did hear a report of frost on some windshields.

Naturally, Nazy and I, quivering, responded appropriately —

"… and make sure you wear socks before you go walking on the beach," Nazy concluded.

The cold, crisp air has resulted in lovely sunsets and sunrises. The sunset picture features a (relatively) new moon and the planet Venus. The sunrise (below) was taken from Melika's terrace on Nirvana Road.

Nazy and I took care of the Santa Barbara grandchildren over the weekend. Azelle, the youngest, is learning to talk and to befuddle adults. She calls me 'Dan' and calls Nazy 'Mamon'. She is very enamored with me right now, an endearing situation, except…

"Nazy!" I exclaimed, "It's 3:41AM. Why did you wake me up?"

"Can't you hear Azelle on the monitor?" Nazy replied.

"No," I replied. "That's because I purposely placed my good ear deep into the pillow," I thought.

"Listen now." Nazy commanded.

The monitor rang out: "Dan! Dan! Dan!"

"I think she wants you," Nazy noted as she turned over.

I went upstairs, changed Azelle's diaper, made a bottle and attempted to rock her back to sleep. She wasn't convinced.

"Book Dan!" She exclaimed. (Azelle actually says 'Beck', but she means 'Book'.)
"No Book, Azelle. It's time for bed."

"Book, Dan!"

"Shall I put you back into your bed?" I preserved.

"No Dan! Book Dan!"

"It's time to go back to bed." I said as I stood up and moved toward the crib.

"Mamon!" Azelle shouted.

Azelle, by the way, is not the only grandchild that likes books: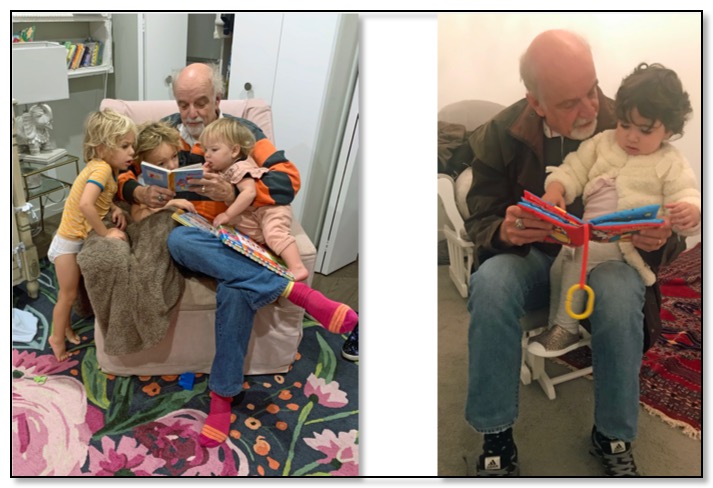 We continue to keep a close eye on Arrow. There are no apparent after effects of this bout with asthma, but, nevertheless, we need to be careful. Accordingly, Nazy and I brought him to his pediatrician for a routine follow-up. I picked him up at preschool and explained where we were going.

"Dan! I told my Mommy and Daddy that I didn't want to see so many doctors."

"This is not one of those doctors, Arrow," I replied. "This is your usual doctor."

"I don't want to go to that doctor in the house with the funny bed."

"We won't do that Arrow." I replied. Truthfully.

Although I was truthful, I didn't proactively share the news that Arrow was likely to get a vaccination during his visit to the doctor. Arrow was not amused when he discovered what he deemed to be subterfuge.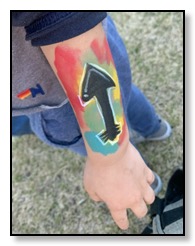 Over the weekend, we took Tiger and Arrow to a friend's birthday party. They had face painting (Arrow got his arm painted), a room full of drums, a piñata, a b
o
u
n
c
e
h
o
u
s
e
, a taco truck and (of course) cup cakes.

Tiger was really torn between banging on the drums and looking for the cupcakes. Arrow knew that the cupcakes would arrive and he wanted to drum.

As you may have noticed, we devoted a lot of attention in the last couple of weeks to Arrow. We want to make sure that he has completely recovered.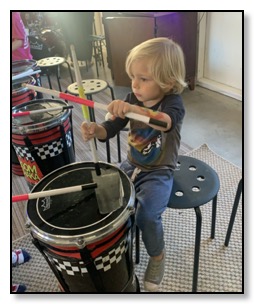 It is, however, impossible to not devote a lot of attention to Azelle as well. If you turn your back for the slightest second, there is little doubt that you'll be scared when you turn back.

"Scared?" Nazy asks.

"Because you'll find her leaning over a balcony, dismantling an electrical socket with her teeth, attempting to change the light bulbs in the chandelier hanging from the vaulted ceiling.."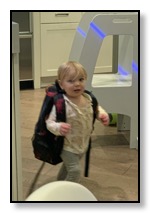 "Or just running away after she's put Tiger's backpack on her own back," Nazy concludes.





Photos of Nazy and Arrow as well as a sun
rise
follow.



For Last Week's letter, please click here


Nazy and Arrow on Swing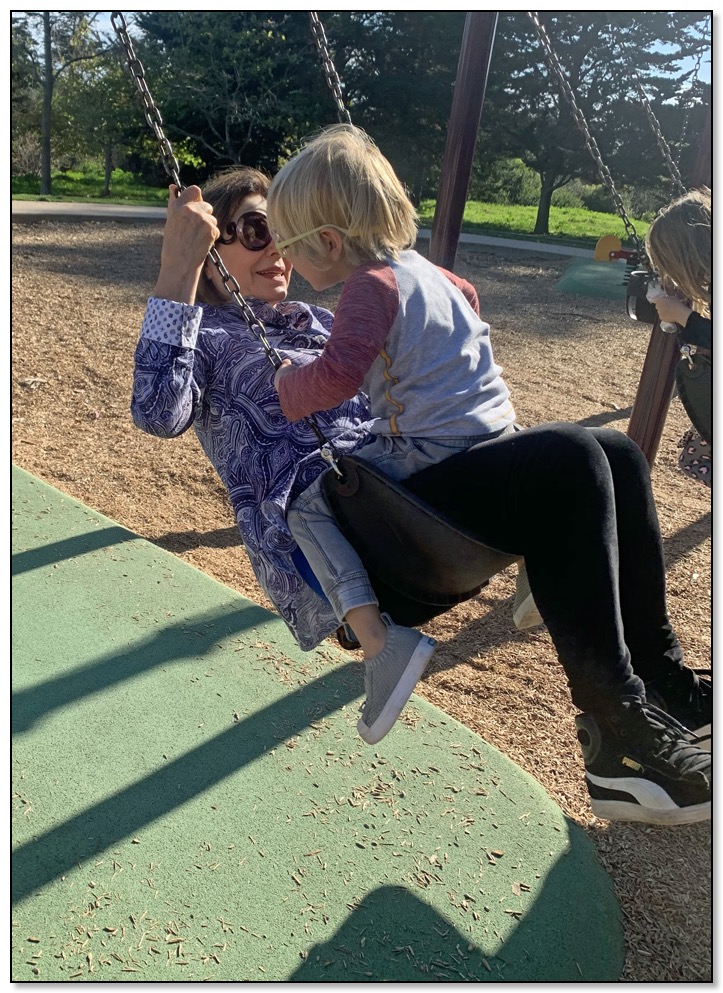 Sunrise from Melika's house