Windy snowmen drive United "Airline's" diapers to the ocean
Until very recently, it had not rained in Santa Barbara for more than 180 days. As a (predictable) result, the hills were dry. A spark and wind brought wildfire to hills of the nearby San Marcos Pass. (Wind means
WIND,
there were gusts up to 82 miles per hour.) Fortunately, the fires were far from our home. And, luckily, friends living much closer to the fire also emerged safely — albeit after spending a night helping the fire department defend their homes. Air quality was degraded by the smoke.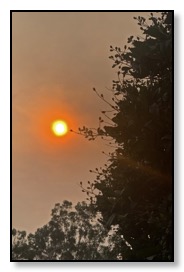 A few days after the fire started, rain arrived. We were concerned about the burn scars on the hills which were (mudslide) vulnerable. In fact, the slide alert area was rather close to our new house where..

"… we moved to avoid the fires. Right, Dan?" Nazy asked.

"Yes, well.." I replied articulately.

Fortunately, the rain, slow and steady, suppressed the fires without sliding any mud. And, excitingly, the rain turned to snow in the higher elevations of the Santa Ynez Mountains north of the city. Tom and Mitra took the boys to see the snow.

"..But!" I exclaimed. "You used it all up to make that, eh.."

"Snowman!" Tiger interrupted.

"Snowman?" I replied. "It looks more like a dwarf …"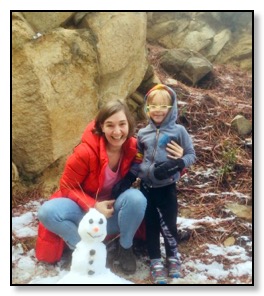 "Like Pluto is a dwarf planet?"

"Right." I replied. "
More like Trump is a dwarf intellect
." I thought.

When the rains (and snow) finally arrived, they stayed. As a result, we had a soggy Thanksgiving. Mitra and Stefan came up from Los Angeles and Shahriar, Nazy's brother, flew down from San Francisco. Of course…

"Flew is, perhaps, not the best word to describe Shahriar's trip." I noted.

"I hope that you didn't introduce him to your travel agent." Nazy replied.

"Of course not. But, on his own, he chose United Airlines."

"Oh my."

"Embarking on United Airlines on a rainy day is like wearing roller skates on a surf board. It doesn't bode well.""You are
so
pessimistic, Dan." Nazy replied.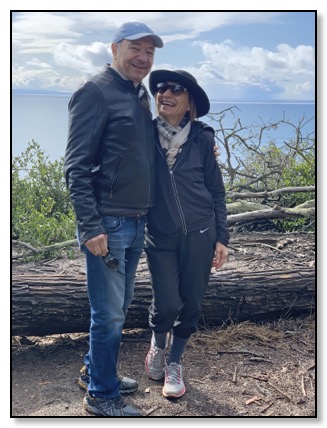 "When is his flight scheduled to …?"

"He should arrive at about 8;30PM."

"He'll be here well after bedtime."

"What.."

"I rely on experience." I replied.
"I doubled the time it would take to drive
," I thought.

His flight arrived in Santa Barbara at 2:58AM, the next day. Amazingly, this was to be his lucky flight segment: his United 'Airlines' return flight, and all alternatives to San Francisco were cancelled. Shahriar had to drive home. He optimistically delayed his departure in order to watch 'his' 49ers lose a football game. Then the drive home was beset with road construction difficulties on The 101. Rain continued. It was, in short, the kind of trip that I usually have.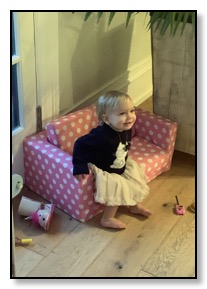 We celebrated Thanksgiving Day dinner with our friends, the Jones Family. Mitra, Stefan, Shahriar, Melika, Tom and the grand(est) children joined lots of others in a traditional and fun celebration. Arrow, in the midst of potty training, contributed to the festivities:

"Can you put a new diaper on me?" he asked.

"What happened to the old diaper?" Melika replied.

"I pooped in the bathroom."

"That's the right place. But what did you do with the diaper?"

"It's in the ocean now."

Confession: I have explained that things flushed down the toilet eventually wind up in the ocean.

"In the ocean!?" Melika exclaimed, dashing to the bathroom where the w
a
t
e
r
was rising.

Azelle, meanwhile, found a baby-sized sofa to make herself comfortable.

Nazy organized and cooked a family dinner on the day after Thanksgiving. Events like these fill the huge, round dining room table with joy and laughter. (And, now that the grandchildren participate with spills and debris.) The grandchildren also fill the big round chair: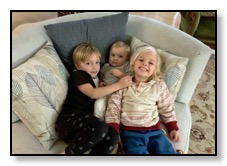 During the dinner, someone asked what I'd like for Christmas.

"Just a book," I replied.

"Which book, Dad?"

"A Dr. Suess book: Donald J. Trump Will You Please Go Now!"

Seriously, having Trump as President is like hiring a blind and aqua phobic lifeguard who can't swim. The Republican contortionists who spout debunked, inaccurate talking points are disgraceful. And, this 'president' has not accomplished anything. There is no wall. And Mexico isn't going to pay. Obamacare hasn't been repealed and replaced. North Korea still has nuclear weapons. The budget deficit has increased. American life expectancy is down. Supporting this cowardly, insecure little twerp is like buying an economy class ticket on the Titanic.