surprise smokey sunset lights autumn birthday festivities
Autumn, in the astronomical sense, has arrived and, as we learned during our time in
N
e
w
Englan
d
, this is a beautiful time of year. And, in spite of the fact that we have no seasons here, we do color. The attached sunset shows how the smoke from (distant) fires provides the color foundation we know and love.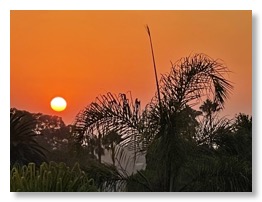 The arrival of autumn usually coincides with my birthday…

"Usually?" Nazy interrupts.

"Almost every year."

"Almost?" Nazy persists.

"One year I was in South Africa at the time and it was Spring, The whole world was upside down."

"That's enough, Dan."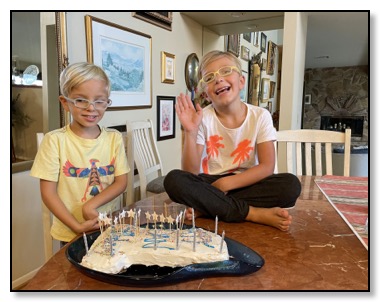 In preparation for the birthday celebration, Tiger and Arrow insisted on helping Nazy bake the cake. They even graciously agreed to let me have 'a big piece'. (the 'only piece' was a bridge too far). The collective effort was well received by the birthday boy.

While they worked on the decorations, I helped by writing poetry. Tiger, focused on the scientific possible, wasn't completely enamored by the work

The sky was filled with cantaloupes
and kangaroos telling jokes
We joined with cheer all other folks
cracking eggs and squishing yokes
making friends with all the blokes
who watched the parachutes full of cokes


On the Friday before my birthday, Nazy suggested that we 'eat out' to celebrate. I thought it was a good idea, but doubted that we'd be able to get a reservation at…
"… anyplace good. It's already late afternoon on a Friday." I explained, eh, I complained.

"Melika has a friend at Ca'Dario. I'll ask her to make the reservation."

"Good idea," I replied. "Melika has a friend everywhere," I thought.

It was, therefore, no surprise that Melika was able to secure an 8:30 reservation. It was, however, somewhat surprising when Melika texted at 8:15 saying that Arrow was coughing — and that he wanted to see us before he went to sleep. And Melika wanted our opinion, too.

Veracity aside: In point of fact, Arrow only said that he wanted to see Mamon, not 'us'.

Nazy, who wasn't ready to depart, suggested that we stop by Mel's on the way, I was naturally supportive.

"Are you kidding? We're going to be late as it is. If we stop to see Arrow, he won't want you to leave. And, we saw him 40 minutes ago. He wasn't coughing. He's fine."

"He wants to see me — eh, us."

"This makes no sense, Nazy." I replied. "There is something fishy going on."

When we arrived at Melika's at 8:35, I knew we'd be late for dinner - because we already were. Tiger met us at the door and said Melika was reading to Arrow in his bed and we should go 'right away'. When we got there, the room was dark…

"… I wonder how she's reading," I thought — as Mitra, Stefan, Darius, Christiane, Leandra and Auriane jumped out of the darkness. Nazy and the family had executed a surprising surprise.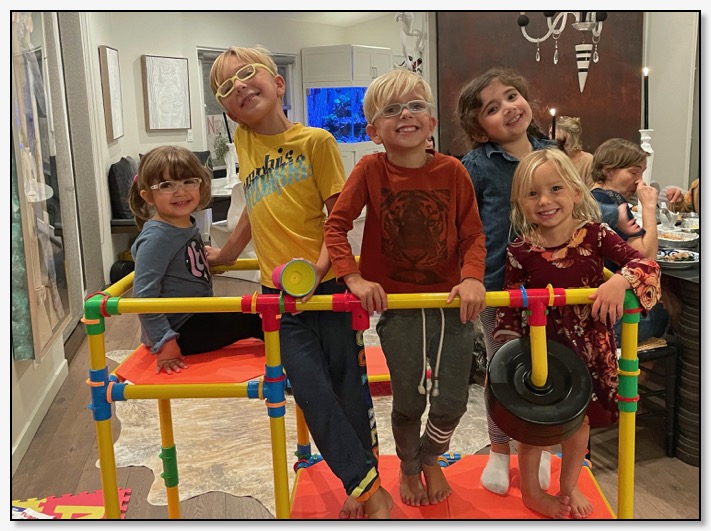 (The grandchildren, as you can see above, got along very well.)

While I was processing the surprise appearance of everyone, Azelle grabbed my hand and took me to the freezer to show me 'your ice cream birthday cake'.

After dinner at Mel's house, (catered by Ca'Dario) Darius, Christiane and the girls came to our home to spend the weekend. This happy situation explained the heavy grocery buying, the housekeeping focus on the guest bedroom and several other events of the week. It also gave me time to read to the girls.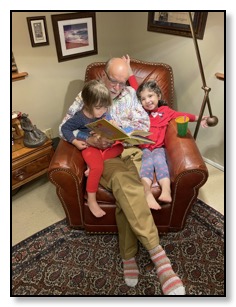 After breakfast the next morning, an excursion to Rocky Knoll Park was arranged — eventually. (Five car seats take up a lot of sitting space.)

Aside: The photo below shows a typical car seat from the time I was growing up. That seat passed rigorous safety tests involving cream puffs and a slingshot. Current car seats must pass a safety test that involves The Rock of Gibraltar and an aircraft carrier catapult. As a result they are bigger and weigh more than the typical compact car.

Transportation issues were resolved: Mitra and Stefan each took a child to the park on the back of an eBike.

The park features big rocks (extracted from the heads of Republican Senators and Congressmen) and delightful views of Mission Creek (devoid of water in September). Although it has an extensive playground, the children (and adults) have the most fun climbing on (and scrambling over) the giant rocks as they exhibit varying amounts of derring do.

For the ride home, Mitra relinquished her spot on the eBike to Darius because Auriane wanted to go by bike — but only with Darius.

That evening Nazy prepared and hosted another big dinner at our home. The grandchildren helped me blow out the candles on the cake before getting into protracted discussions about which color
sp
r
in
kl
es
they wanted on their piece of cake.

"
Let them worry about sprinkles
," I thought. "
I'll just wait for the biggest piece — and then I'll pour on the
s
p
r
in
kl
es
that I like
."

It was an entire weekend of celebration; we weren't through. On Sunday, Melika had booked a private dining room at
Lucky's
in Montecito.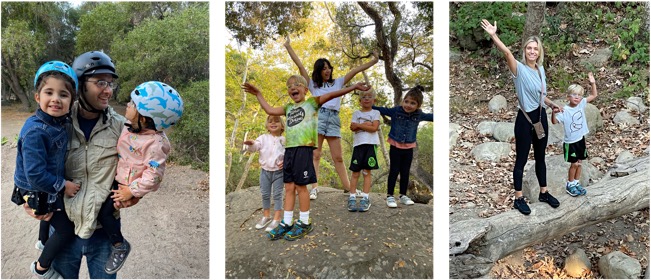 The photo has Nazy and me as well as all of our children and grandchildren. (Azelle thought that the party was 'clothing optional'.)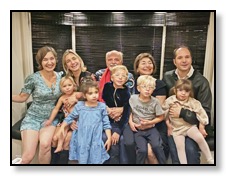 The private room was decorated with several autographed pictures of famous actors — e.g. Kirk Douglas, Sophia Lore. After dinner, everyone said really nice things about me….

"I guess I fooled them," I thought, wondering when a Lucky's photographer would come in and take my picture — I wanted it on the wall when we celebrated again in 25 years.

Darius and Family had a smooth trip back to Bellingham on Monday. We were amazed to see how well Leandra is learning to read and how much young Auriane is growing up — and mimicking her sister. Mitra is staying for the week and is sharing her flair and fun approach with Tiger, Arrow and Azelle.


For last week's letter, please click here


Stefan and Leandra