Field of Light flattens Tires of Atlantic Char on Anniversary
This year Nazy and I were ready to celebrate our wedding anniversary on July 22.

"Interestingly, our anniversary comes on exactly the same date every year," I commented.

"But we don't always celebrate on the same day every year," Nazy countered,

"Excuse me?"

"Many times you were traveling. One year you were in Nigeria."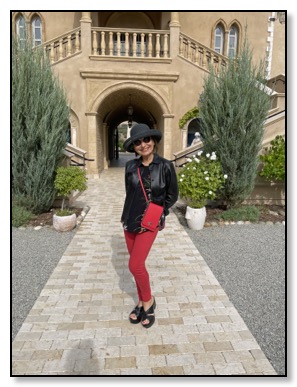 "Those days are gone, my dear," I replied. "
I was in Nigeria on Nazy's birthday, not our anniversary
," I thought. Quietly.

To help us celebrate, Melika had booked the ALLEGRETTO VINEYARD RESORT in Paso Robles about 2 hours north of Santa Barbara. Nazy had particularly wanted to go there because the area hosts an artistic display called the Field of Light. We had seen (and enjoyed) a similar
d
is
p
la
y
, by the same artist (Bruce Munro) near Uluru in Australia.

We didn't actually know much about Paso Robles …

"Isn't Paso Robles always the hottest location on the local weather map?" Nazy asked.

"Sometimes Ojai is hotter. But Paso is also usually very cool at night." I responded.

"Hottest and Coldest?"

"It has a desert climate — 100℉ during the day, 55℉ at night. It's unusual."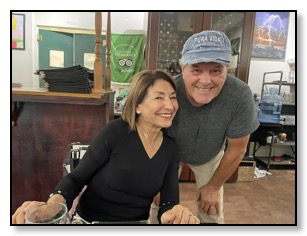 "Don't they make good wine in Paso Robles?" Nazy asked.

"We're staying at a Vineyard Resort, my dear." I concluded.

The drive north, through very dry terrain, was smooth and uneventful. Upon arrival, we checked our beautiful garden room. Nazy found a …

"… reasonable place for dinner in downtown Paso Robles," she explained.

"I thought you wanted to eat at the hotel." I commented.

"I did, but I couldn't get a booking. We'll have dinner here tomorrow. The concierge says that we will enjoy this place and we'll enjoy walking around downtown."

"Ah, yes," I replied. "
Does Paso Robles have a downtown
?" I thought.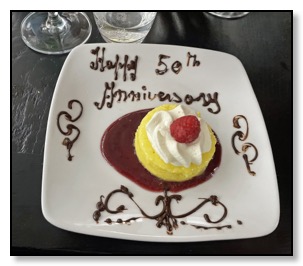 In fact, Paso Robles has a lovely downtown which surrounds a large, square central park. Our restaurant,
Paso Terra
, was located on Pine Street just across from the park. The food was superb: Nazy had Alaskan Char and I had Halibut. The chef, Andre Averseng, who was born on the kitchen table in a village in Southern France, had moved his very successful business and restaurant from Los Angeles to Paso Robles…


"… because it looks and feels like France here," Andre explained.

They even made a special dessert for our anniversary (however, they credited us with one additional year of marriage).

When Nazy and I got engaged in 1972 , we jointly selected an engagement ring with small
emeralds
and an even smaller diamond. Unfortunately, it was stolen by our housekeeper in Memphis. This year, however, I got Nazy a necklace with a small diamond and a nice
emerald
. It was a hit.

A wine-tasting session was the obvious thing to do the next day. The Allegretto sits in the midst of an 8 acre vineyard. We learned about rootstock, grafting, eco-grapes and…

"… isn't it really dry here?" Nazy asked. "
And hot
?" I thought as the thermometer passed 95℉.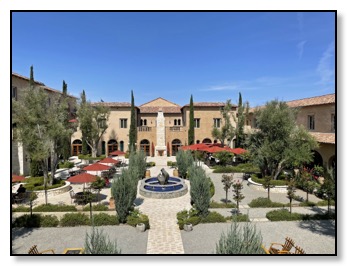 "Wine likes to be stressed," the guide responded as we enjoyed the vineyards where I saw..

"Hawks!" I exclaimed. "What kind of hawks are those?" I asked the guide as I viewed these magnificent raptors gliding over the countryside.

"Those are vultures," the guide responded.

"Ah," I replied. "When does the wine-tasting begin?"

Because I was with Nazy, who is great at engaging people, we met a very interesting couple while wine-tasting. They were from New Jersey; she had her own healthcare marketing business and he was a lawyer making the transition into a role of coach for high schoolers wanting to go to college.

As we walked back to our room, we passed the world's first …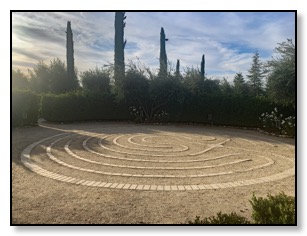 "… and only, sonic labyrinth," I commented, thinking of Mitra.

As I followed the path to the center, some kind of device tracked my progress and generated suitable sounds.

(By 'suitable', I mean that it sounded like a humpback whale calling for her calf.)

As noted, we had planned trip to Paso Robles after we heard about the "Field of Light" art installation there. The large scale work features 50,000 lights on 15 acres.

We arrived at dusk so that we'd be able to watch the sunset and see the lights gradually brighten. When it got fully dark, we walked through the lights and into a 'pillar' feature that had LED wires inside 17,000 wine bottles stacked into, well, pillars. (You kind of had to be there.)

The display in Paso Robles was about 3 miles from the hotel; Ayers Rock is about 60 miles from the nearest city. When we saw the Field of Light in Australia, the moon set shortly after dusk. In Paso Robles, a full moon rose at sunset. In fact, a full moon must rise at sunset. No matter, the display was breathtaking.


The Field of Light just as the sun was setting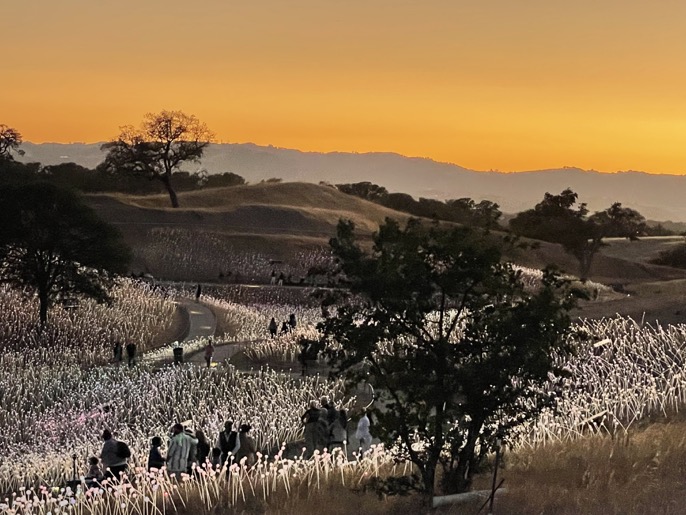 The Field of Light full dark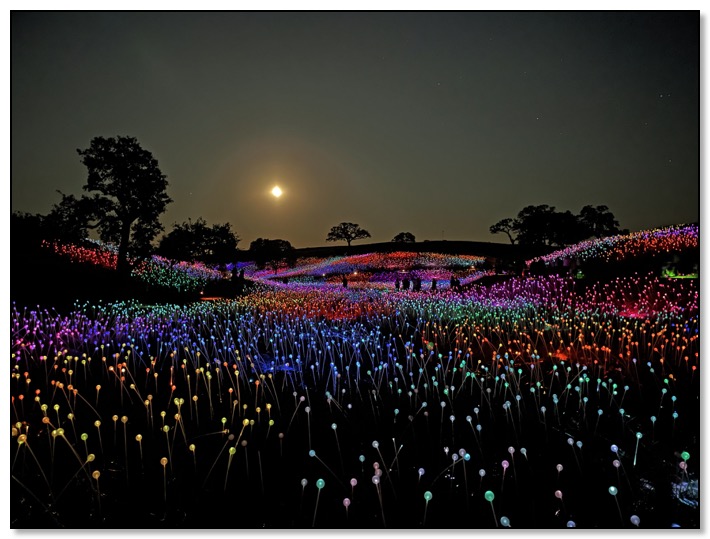 The drive home began smoothly and then a few miles from Santa Margarita, the computer…


Low Tire Pressure
Right Rear Tire


"We'll need to pump the tire up," I commented, deciding to get off at the next exit.

There was no gas station visible, but Nazy insisted that I turn right at the exit. We (eventually) found a gas station — with an attached tire store.

"What luck!" I exalted. Prematurely.

I could hear the tire hissing and it looked almost flat. But at the tire store we discovered that —"Old Jed", the tire guy, had left at noon. It was about 12:15. Billy Bob, his non-tire stand-in helped us install the 'spare', a bicycle-sized mini-tire that was designed to last about 15 miles — provided it's not driven faster than 45MPH.

"Don't worry, San Luis Obispo is only 10 miles away and they'll have something open," Billy Bob observed.

Encouraged, we got back on the 101 Freeway heading north. San Luis Obispo was south.

"Why does the navigation computer keep increasing the distance to our destination?" I thought. Nazy was faster:

"You are going the wrong way."

We turned around, and endured insults, horns and rude gestures while we slowly made our way to San Luis Obispo. The recommended 'tire fixit' location, a Shell Petrol station, didn't 'do' tires. They directed us to a closed tire store. Taking matters into my own hands, I found a store that ..

"… is open." I exclaimed as we asked Siri for directions.

There was, astonishingly, a factual error on the internet (and on the window of the shop): both said that the store was open until 4:00PM. However, it was closed at 1:30. I found another place, in the opposite direction and …

"It's open!" I exclaimed. Accurately. (Finally.)

Micheal, the clerk came out, examined my tire, told me that it probably couldn't be repaired, but offered to check it.

"Can't fix it?" I thought, "I bet he'll sell me an overpriced replacement."

"It turns out we can repair it," Michael stated. "And we don't charge to repair flat tires."

They fixed the tire, installed it on the car, put the 'spare-let' back in the trunk and wouldn't take money.

"We are sooo lucky," Nazy cooed as we drove away.

"Yep," I replied. "If we were really lucky, we wouldn't have had the flat," I thought.


For last week's letter, please click here


Dan and Nazy in the Vineyard