Dry rains swing with gorgeous monkey in Asia stroller
It's Spring! And, here in California, that means the end of the moisture-missing 'rainy' season. The temperature is warm, the morning fog gray and the flowers wild. As more and more people get vaccinated, it also means that Tiger was able to return to school. Meanwhile, (far) North in
Bellingham
, newly vaccinated Darius and Christiane have finalized plans for a trip to California with the little girls in a couple of months. It's going to be an exciting time.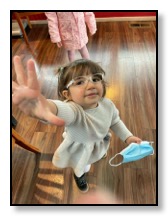 As Leandra and Auriane have grow, Darius and Christiane took them to the eye doctor. It appears that Auriane will begin wearing glasses soon — in fact, she has already tried them on.

I think that Darius is also really looking forward to getting back into the classroom (and into his office). Much of what makes being a professor enjoyable has been compromised by COVID. So far, however, no decision has been made about returning to in-person classes this fall.

In between our visit to Washington State last month and The Bellingham Martin Family's visit here in June, we're
ZOOMi
ng.(Or actually, Facebook Portal-ing.)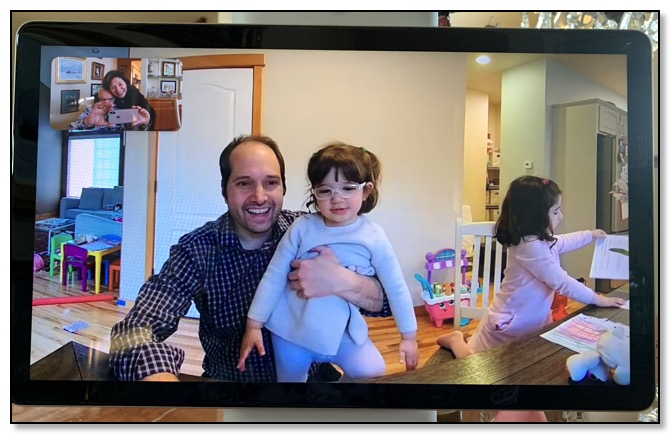 Here in Santa Barbara, we've been enjoying the backyard swing and slides. Arrow and Azelle were enjoying the swing when Arrow noticed the embossed elephant on the slide.


"Are there any elephants here?" Arrow asked.

"No," I replied. "But I saw some of them in Africa."

"Have I been to Africa, Dan?" Arrow replied.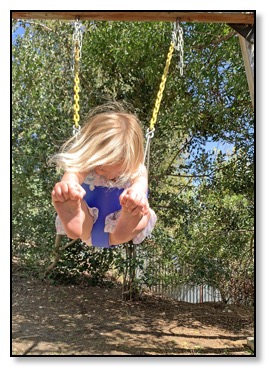 "No, but you have been to Canada."

"When I was very little in my stroller," Azelle interrupted. "I went to Asia and I saw gorgeous monkeys in the tree."

"You haven't been to Asia, Azelle!" Arrow interjected. "But my Mommy has."

"
My
Mommy." Azelle retorted.

"Do you want to swing higher?" I asked, recruiting Tiger for pushing duty.

"Azelle was studying my Atlas, Dan." Tiger explained later.

Back at school, the protocols have changed a bit in light of the pandemic. I decided to ask Tiger about that.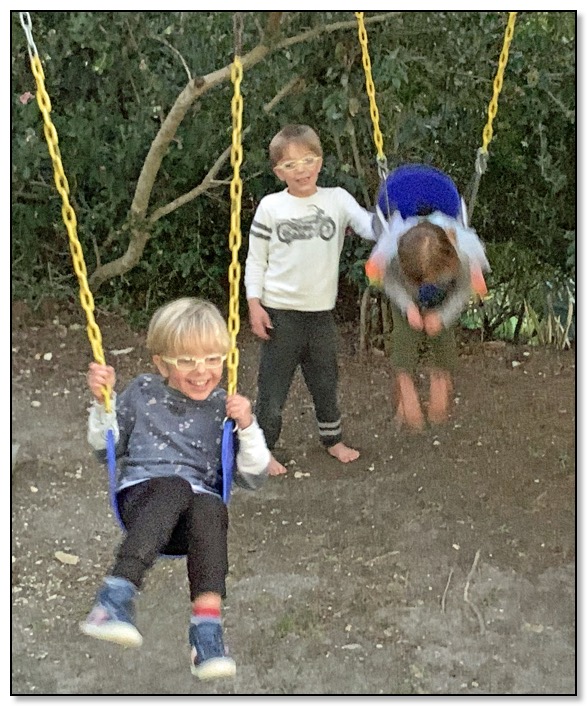 "You get out of the car and walk to your class room by yourself. Nobody holds your hand," Tiger explained.

Do you like that?" I asked

"Why would I like that?"

"What if you don't know the way to your class?"

"I always know my way."

"Did anything exciting happen at school?"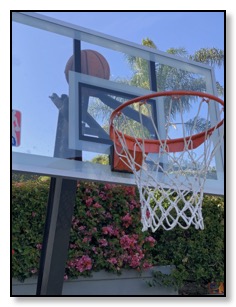 "Caterpillars. Millions of them! They are falling from the trees and crawling around on the ground and the sidewalks. And there are lots of moths."

"Perhaps there is a connection.…"

"Yeah. And you have to be careful that the caterpillars don't fall on your head."

"I know. When I was a little boy, caterpillars fell on my head, ate my hair and built a cocoon in my ear. The moths only came out when my Mom shined a flashlight in.."

"No, Dan."

Tiger and Arrow are both also into basketball; they spend a lot of time in the driveway playing with each other, their parents, me and just about anybody who comes by. Tiger likes to try trick shots and, as you can see, one of those resulted in a trapped basketball.

Finally, because we're in California and close to the ocean, we always have time for the occasional stroll along the beach. In fact, tides permitting, Nazy and I take walks almost daily. Tiger, Arrow and Azelle also like the ocean and the sand, and …

"…. I'll walk with you, Mamon!" Arrow exclaimed.

"Great!" Nazy replied "We're going to walk all the way to …"

"We don't want to go too far." Arrow cautioned.

"I know. We're just going to walk to.."

".. have fun." Arrow concluded.

"
And take a picture
," I thought.


For last week's letter, please click here.


Nazy and Arrow at the Beach