May Gray advertises bonkers zip-line bunkers
Although California in general (and Santa Barbara in particular) are known for good weather, meteorologically speaking it's been somewhat…

"… foggy and cool?" Nazy interrupts.

"Precisely."

"That's the '
May Gray
', Dan. It's the 'marine layer'.."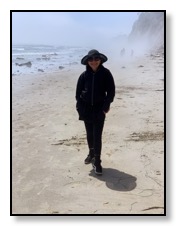 "Marine layer?"

"Fog from the ocean."

"I hate the 'F-word'. Why doesn't it stay on the ocean." I replied. "F
og? How charming
." I thought.

"The good news, Dan," Nazy continued, "is that it's usually gone by the afternoon."

"
And the bad news,
" I thought, "
is that it's followed by the
June Gloom
."

The marine layer hugs the coastline and is generally non-existent a few miles inland. And, in spite of the season. Our home is close to the coastline. Nazy and I decided to move our beach walks to the afternoon.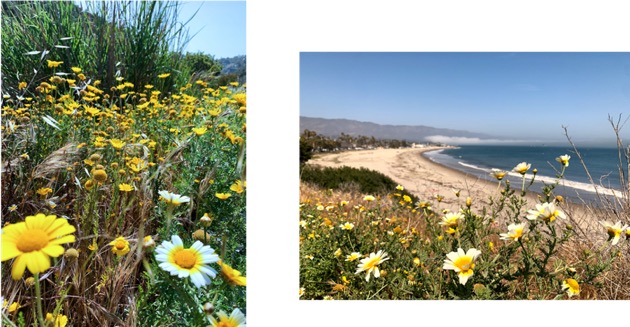 For the last several weeks, Melika has been taking Arrow to Ventura for a weekly gymnastics session. Arrow really enjoys this special time and he is getting very good. This week he wanted Nazy and me to take him so that he could show us what he had learned. It was fun to watch him joyfully work with his teacher while he explained each activity to us.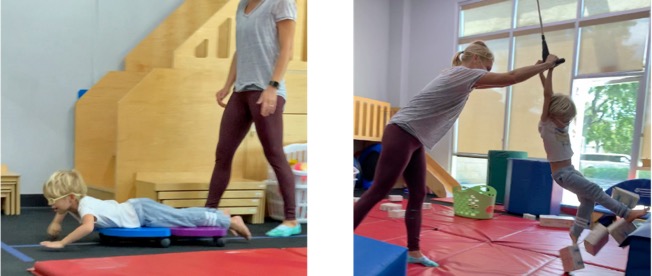 We planned to pick up Tiger from school on the way back to Santa Barbara. But, before leaving, we stopped at Starbucks for coffee and a croissant. Arrow didn't approve…

"Tiger doesn't like it if you are late, Dan." Arrow announced.

"We won't be late," I replied. "We just won't be first in line."

"We're certainly not first in line," I thought as we pulled up to, eh near the school joining a queue that stretched onto the street.

"Tiger won't like this," Arrow observed.

We gradually worked our way forward and Tiger hopped in.

"There were only three people in my class still waiting when you finally got here." Tiger said, greeting us warmly.

"Would you like to get a smoothy?" Nazy asked, adroitly changing the subject.

"What were today's 'specials' at school?" I asked.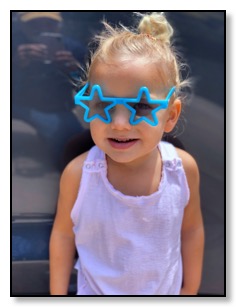 "We had sports and art," Tiger replied.

"What did you do in art?"

"We painted a giraffe."

"Really?! How did they get the giraffe to stand still in your art class?"

"Dan…"

"Is the ceiling high enough? Did you stand on a ladder?

Azelle, unfazed by May Gray, likes her afternoon sunglasses. (I think that Barbie has a nearly identical pair.)

In Bellingham, Darius and Christiane have been very successful in getting Auriane to wear her (astigmatism-correcting) glasses. Here in Santa Barbara, it took Melika and Tom a much longer time to convince Tiger (and especially) Arrow to don the spectacles. But..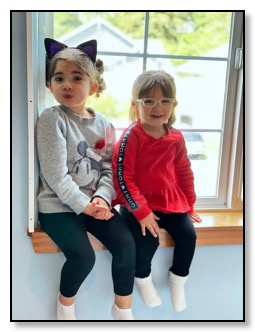 "… now they want to wear them when they go to bed," Nazy noted.

"Yes," I replied. "Tiger told me he wanted to be able to see what was happening when he dreams."
And while we are still on the subject of
May Gray
…

"We're not still on the subject of
May Gray
," Nazy interrupts.

"How right you are, my dear," I replied. "
But we're still in the
May Gray
letter
,
" I thought. "
And I've got the keyboard
."


Flashback: The Hague


When we moved from New Hampshire to The Netherlands, I left before the family — arriving early fall. I used to take walks along the beach facing the North Sea. It was generally foggy in Scheveningen and while I was walking I saw, through the fog, bunkers built in World War II by the German Army. It had an eerie feeling: like a scene from The Longest Day movie.

The next spring, I wanted to share this experience with the family,

"The bunkers," I explained, "are a short walk along the beach away from the bars and cafes. It will be fun."

And, with that, I took the three children and Nazy on a hike. It wasn't foggy so it didn't look so, eh…

"… forbidding," I explained.

And then, Mitra saw it. The local nude beach was located right beneath the bunkers.

"Look at that guy!" Darius shouted. "He's naked."

"Don't be silly, Dar," I replied. "He's not naked. He is wearing a tie."

"Maybe he is, Dad. But she isn't wearing…"

"Do you think we should head back, Dan?" Nazy asked as we attempted to reverse course,

We met Cormac, who was walking toward the bunkers on the way back. I asked if he knew about the nude beach.

"Yes, Dan." Cormac replied. "I discovered while I was walking Paddy, my dog. It turns out that Paddy has a fetish for rear ends. He likes to run up and stick his wet nose.."

"Thank you Cormac."


End Flashback


Spurred by Mitra's research into the nefarious world of gaming apps for iPhones, I chatted with Tiger about his favorite apps and about the associated ads.

"I like the ones without ads," Tiger explained. "Sometimes the ads come so often the best thing to do is just buy the app. After that I hope that the ad will stop."

"Does it work?"

"That ad stops but then something else.."

"Surprise.." I interrupted.

"Sometimes they hide the 'X' you need to turn off he ad. They even try to make you think that you are in your game when it's really just an ad. Do you want to buy the 'No Ad' version of Homescapes?"

"Of course!" I replied before checking the fee. "$5.99/week! That's outrageous." I thought. "It's $300 for a year, Tiger. Do you think that's a good idea?"

"So I could play Homescapes without ads or have $300 after a year?"

"I'd take the $300." Tiger concluded.

"What would you do with it?" I asked.

"Get a TV for our bedroom," Tiger replied. "Yeah, that's a good idea." Arrow concurred.

"What are we going to do when these kids are able to buy an 'Adjust your genes' kit?" I thought.


For last week's letter, please clickry rains swing with gorgeous monkey in Asia stroller"> here



Tiger, Azelle and Arrow